JV pays £7m for Liverpool's Cavern Walks - Place North West
JSM Company Group and Greenwood Developments have acquired the former Signature asset from LPA receivership, with plans for a hotel and refreshed retail.
In April this year, Place North West reported that agent HVS Hodges Ward Elliott had been engaged to find a buyer for the complex, which was marketed as a 143,000 sq ft development opportunity.
That sale has now been concluded, with LPA receiver Avison Young working with JMW Solicitors.
There is a clear demarcation in the development: JSM will take on the retail, with Greenwood looking to develop the hotel on the upper floors.
Matt Crebbin, property manager at JSM, told Place: "It's a two-pronged attack, our partners are looking after the hotel and we're looking to get retailers into the centre. We were on site with three interested parties yesterday, who are already trading in the Baltic Triangle or Bold Street area. What we're looking for is that quirky segment of the market."
Signature Living, which bought the site from Adhan Group, had previously secured consent in June 2019 for a hotel conversion scheme, on which work was started but not finished.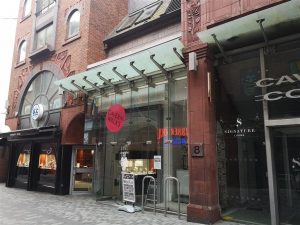 Cavern Walks Main Entrance. (Image – JSM)
Cavern Walks comprises 23 retail units, along with seven upper floors currently housing vacant offices.
Chris Walker, director at Avison Young, said: "Since 2020 the receivership team has had to navigate several challenging lockdowns and, more recently, economic headwinds caused by the Government's mini budget in September. The building was still partially occupied by retailers at the lower levels, while the upper floors were in the process of being converted into a hotel.
"An active asset management strategy stabilised the property, including regularisation of various occupations and addressing urgent maintenance and statutory compliance matters. A detailed review of the planning position was also key to delivering maximum return for the chargeholder. Cavern Walks offers great potential and we wish JSM and Greenwood well for the future."
James Williams, restructuring and insolvency partner at JMW Solicitors, said: "We are pleased to have been able to support with the sale of Cavern Walks – it was a complex transaction involving English receivers, liquidators in the British Virgin Islands and with stakeholders in Hong Kong.
"The building is an important landmark for Liverpool and we look forward to seeing its transformation take shape in the coming months."
JSM is a property business headed by Jamie Motlagh, who is also a director of bar and nightclub operator Pub Invest Group, which runs several venues in the Cavern Quarter area.
In September, JSM secured planning consent to convert the former NatWest bank on Liverpool's Castle Street into a 92-bedroom hotel. JSM's website lists various other projects, including a further hotel scheme, at the Fruit Exchange, consented in April 2020.