JSM Best Commercial Property Development Company 2022 - North West
The development of new property in cities is always good news, and few are more passionate about the potential of the North West than the team at JSM Company Group. In SME News' Northern Enterprise Awards 2022, the team were recognised for their considerable talents. See the full SME story here.
Based in the heart of Liverpool, JSM have made a name for themselves as a team which has construction right at its heart. With a proactive approach to property, the firm has purchased, invested and developed numerous sites throughout the city, offering an alternative to old-fashioned ways of living.
Many in the property business have been put off by the cost-of-living crisis, but the JSM team have seen opportunity where others see only challenges. With various contacts who know the region well, the team have been able to find excellent prospects for new sites to be developed. Over a relatively short space of time, they have been proud to establish over £80m worth of assets in Liverpool itself, and quickly become one of the largest landlords in the city.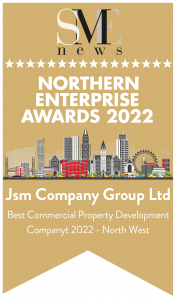 Often, the properties that the team are involved with are steeped in history. Some of their sites include The Fruit Exchange, Bank of England, former Natwest and Bling Buildings among others which are currently ongoing projects. The decision to focus in on these properties has allowed the team to embrace the heritage of these buildings whilst boldly pushing forward into brave new territory. Everyone from high street brands to local independents have been able to benefit from the decisions made by the team.
The increased presence of JSM throughout the city means there is no margin for error, and indeed the properties have all been completed to an immensely high standard. Within listed buildings in particular, the margin for error is minute, but the design teams know precisely what they can achieve within given limitations. The result is often old walls being given new life.
Over the last 12 months, JSM has been granted permission for a large hotel above the Natwest on Castle Street, with works to commence shortly as well as commercial units at ground level. Planning has almost been finalised at Bank of England, Castle Street for a large and exclusive restaurant brand, and new quality finished apartments have been launched at various sites in the city. It's an exciting time to be a part of this immensely popular organisation.
With such projects only just behind them, it's little wonder that we're salivating to see what the team does next. With incredible ambition driving them forward, we're sure it's going to help transform Liverpool into a city of the future.